Rubies of the Viper and its sequel, The Viper Amulet,

are the first two novels of

a sprawling and suspenseful first-century family saga.
The third book, The Ruby Ring, is in progress.
Scroll down to learn more about my books and me.
To fully enjoy my books,
read them in order:
#1 Rubies of the Viper
#2 The Viper Amulet
To read or write reviews on Amazon and/or Goodreads, click the links provided for each book.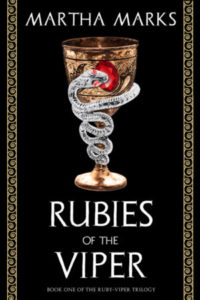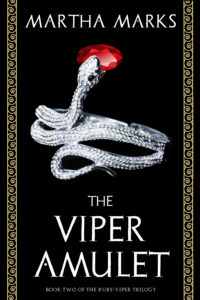 ____________________________________________________________________

Rubies of the Viper
"If I were to select a book of the year to read, RUBIES OF THE VIPER would be in the running for top choice. Yes, it is that good." —Rhonda Esakov for Story Circle Book Reviews
"I ordered this book after seeing all the five star reviews. Now I see they are well deserved. Impossible to put this book down. I HIGHLY recommend this book." —Patricia Goodspeed, Amazon Vine Voice
"If you love historical fiction that will grab you by the jugular and not let go until you've devoured the last page, this novel is for you. A remarkable work!" —Cheri Lasota, author of Artemis Rising and Echoes in the Glass
"A fast-paced, suspenseful and romantic historical novel and a totally satisfying read." —M. Louisa Locke, author of the Victorian San Francisco Mystery Series
"The characters in RUBIES OF THE VIPER achieve the rare status of being 'real.' Highly recommended." —Rebecca Lochlann, author of The Year-God's Daughter and The Thinara King.
SYNOPSIS
AD 53—Strong-willed, impetuous, and naive, Theodosia Varro inherits the family estate after her brother is murdered on the streets of Rome. With no preparation, she goes from poverty and isolation to great wealth and a prestigious position in society.
Only by identifying her brother's killer can she feel safe, yet her efforts take her in quite the opposite direction. After her own actions and the scheming of others lead to catastrophe, Theodosia struggles to survive and recover what matters most in her life.
"RUBIES OF THE VIPER is a genuine gem of a mystery set in Rome during the reigns of the Emperors Claudius and Nero. It's full of exciting suspense and beautifully developed characters. Marks's rich portrayal of Roman life is delightful and gruesome in turns–just as a good Roman mystery ought to be. We get the grace, the violence and the perversion that was imperial society revealed through a spell-binding tale." —Judith Starkston, author of Hand of Fire
"A real page turner—a book that stays in your thoughts the entire day until you can read again. Compelling characters, beautiful descriptions, plenty of conflict with unpredictable twists and turns, and an incredible storyline." —Mirella Sichirollo Patzer, author of Orphan of the Olive Tree and The Prophetic Queen."
____________________________________________________________________
The Viper Amulet, SYNOPSIS
AD 56 — Disgraced and impoverished, Theodosia Varro flees Italy with the man she loves. As Emperor Nero's agents pursue her, she escapes to a place that should offer safety and peace, only to find an unexpected enemy awaiting.
Conflicts mount as Theodosia battles foes known and unknown. Ultimately, she ventures into a distant land whose culture she does not understand—and into a brutal war zone—to salvage what remains of her dreams.
PURCHASE OPTIONS

AMAZON US — Not yet available
AMAZON UK — Not yet available
AMAZON CA — Not yet available
AMAZON AU — Not yet available
____________________________________________________________________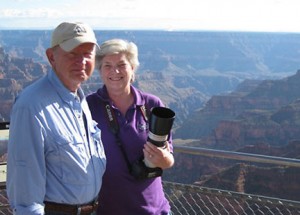 ABOUT MARTHA MARKS
I'm a retired college professor with a two-sided creative life.
On this side…with a passion for travel to ancient places that dates back to my childhood (see photos below), it's no wonder that I write historical novels like Rubies of the Viper and The Viper Amulet. My work-in-progress is The Ruby Ring, which will complete the sprawling, suspenseful first-century family saga that I call The Ruby-Viper Trilogy.

On the other side… as a lover of birds, other wildlife, and natural places, I'm also a nature photographer who travels the American West with my husband, fine-art painter Bernard Marks. For over thirty years, I've made and sold thousands of images, published hundreds, and printed, framed, and sold several dozen. My still images and videos sell around the world via several commercial stock photography sites. Click here —  Adobe Stock  — to see my portfolio.
My first visit to Pompeii
These photos show me at age seven, on my first visit to Pompeii. I told my parents that day that I had been there before. It was all very familiar. And that sense of déjà vu has never left me. I feel it whenever I go back to Pompeii, Herculaneum, and the Roman Forum.
As an adult, I've returned to those places and visited others featured in my books, such as the Etruscan necropolis at Cerveteri, which was already 1,000 years old at the time of my novels; the Acropolis and the Agora in Athens; and the ruins of the port of Itanos on the island of Crete.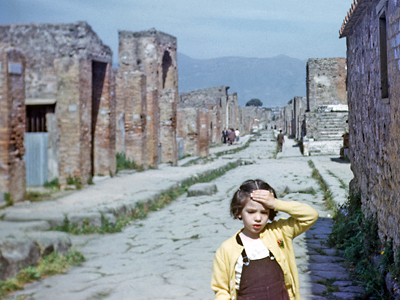 As a teenager, I devoured every novel about ancient Rome that I could get my hands on. As a woman, I've read newer fiction set in the period and places I write about and studied the nonfiction history and cultures of that time.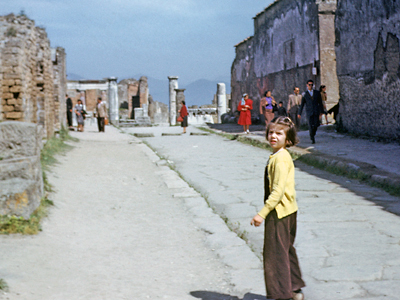 Rubies of the Viper, The Viper Amulet, and the third book in this series—my work-in- progress, The Ruby Ring—are direct results of the fascination that began on that long-ago visit to Pompeii with my parents.